We stand by our work & our products. Your satisfaction is 100% guaranteed.
Upon completion, we walk-through areas cleaned with you to ensure 100% satisfaction. Any concerns will be addressed at the time of the inspection.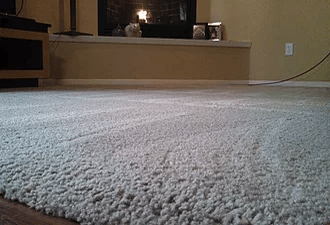 Our Process
When cleaning your carpets we use a 12-Step Extraction System.
1. Analyse carpet and provide quote.
2. Vacuum areas to be cleaned.
3. Move furniture.
4. Treat spotted areas.
5. Pre-treat with cleaning agent.
6. Use rake to agitate the pre-treat as needed.
7. Extract cleaning agent and soil from carpet.
8. Move furniture back to original location.
9. Use plastic tabs or blocks to protect carpet from furniture.
10. Apply stain protection per your wish.
11. Groom carpet with a carpet rake.
12. Set up Air Movers.
Upon Completion, we walk through areas cleaned with you to ensure 100% satisfaction.
Product Care
Certain care procedures are recommended for enhancing the beauty of your carpet so that it provides years of service. A proper care plan is divided into preventive care, daily care and regular cleaning.
Preventive Care:
Includes anything attempted to reduce the amount of soil brought into a home. Eighty percent of the soil brought into a home is tracked in on the soles of shoes. Entry mats are one example of a preventative care measure.
Daily Care:
Includes spot removal and vacuum cleaning. Carpet should be vacuumed a minimum of twice weekly. Traffic lanes and areas near exterior doors should be vacuumed daily with multiple vacuum passes. These areas are where the bulk of household soil is trapped. Vacuuming is by far the most important activity that can be performed, but it is rarely performed frequently enough or with the type of zeal necessary to effectively remove soil. This makes regular cleaning by a professional the next important step in maintaining your investment.
Regular Cleaning:
All residential carpet should be cleaned a minimum of every 12 to 18 months. Consult the carpet manufacture to determine the recommended cleaning schedule.
Carpet Protectors:
These are chemicals used to coat the carpet fibers to repel water, oil and soil. They provide better cleaning both during regular cleaning as well as spot removal. Most new carpets come pre-treated with carpet protectors but you might have to reapply the protector after 2-4 years of usage in high traffic areas and every couple of years thereafter.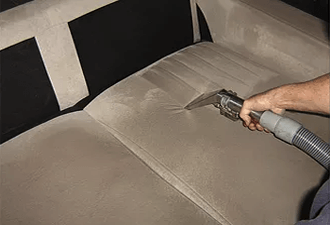 We at Mott's Carpet Cleaning follow the basic seven principles of professional upholstery cleaning as outlined by the IICRC (Institute of Cleaning & Restoration Certification) standards.
Our Process
1. Fabric Inspection: A simple burn test which involves taking a tiny swatch of the fabric can reveal the fiber content. The flame, smoke and odor are identifying characteristics.
2. Dye Testing: A small amount of upholstery cleaner is applied to an inconspicuous area of the fabric and a towel is pressed to the fabric. This tests the stability of the dye.
3. Dry Soil Removal: In cleaning any textile, the first step is always to remove as much dry soil as possible. This improves the following cleaning steps greatly.
4. Soil Suspension: A preconditioning agent is used on most fabrics to "suspend" the soil for more effective extraction.
5. Soil Removal (Extraction): A water or solvent based rinse is used to whisk away the suspended soils.
6. Pile Setting/Grooming: Many textiles have a pile that needs to be set after cleaning. A special upholstery brush is used to groom the pile for proper drying.
7. Drying: Getting the upholstery dry as fast as possible is important. High velocity air movers are used for faster drying. Ceiling fans and air conditioning also help.
Product Care
An often overlooked feature of upholstery cleaning is Fabric Protection. Fabric Protection may be just as important as the cleaning itself. When carpet is cleaned, many consumers see the value in protecting the carpet, but don't seem to think it's necessary when it comes to protecting upholstery fabric after it is cleaned.
There is a great deal of difference between upholstery fabric and carpet. Carpet is usually made from a synthetic fabric such as Nylon or Olefin. Natural fibers such as wool are used but do not represent the majority. Upholstery fabric on the other hand is most often made from natural fabric. Cotton is widely used for example.
Natural fibers are much more absorbent than synthetic fibers. This is an advantage to you when selecting a fabric because the more absorbent the fiber, the better it accepts dye and more dying techniques can be used. This gives you a wide range of choices in color and style.
The disadvantage of an absorbent fiber is that it stains easily. Foreign dye that is used in beverages for example can more easily stain a natural fiber. Even synthetic upholstered fabrics are more vulnerable than carpet. The reason is how the fabric is made. With carpet, you have a pile, a backing (usually synthetic also), and a thick pad underneath. This gives a spill a lot of room to spread. With this upholstered fabric, you have a thin layer of fabric to penetrate. Once the stain is in the stuffing, it is more difficult to remove. With carpet, you could even pull the carpet up and deal with problem spots from underneath if you had to. But not upholstered fabrics.
A good quality fabric protector will assist in resisting spillage, and keep normal soiling such as airborne soils, dust, dander and perspiration on the surface for easier removal. Keeping your upholstery protected will help you keep your upholstery looking better longer. Our company is well qualified to apply a quality fabric protector to your upholstery.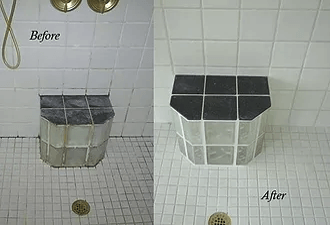 Tile, Stone, & Grout Cleaning
You can scrub your tile floors all day long, but getting those grout lines clean really makes all the difference. Cleaning grout can be a monotonous job and the maintenance required to maintain your tile's beauty, while keeping the grout clean, is a balancing act. Microscopic pores allow dirt and other contaminates to become trapped below the surface, where they cannot be removed by regular mopping.
Our Process
For most, the old fashioned mop is the tile-cleaning tool of choice. Although this appears to work fine at first, eventually you start to notice the tile getting darker in the traffic areas. Mopping no longer gets the job done. Dirt and soil from the mop has been absorbed into the grout between the tile leaving it dull and dingy.
Utilizing the latest technology and environmentally safe cleaning agents, Mott's Carpet Cleaning high pressure "turbo" Tile, Stone & Grout cleaning system will restore the natural beauty of your ceramic tile and grout quickly and economically.
The Professionals at Mott's Carpet Cleaning have extensive experience in the area of Tile, Stone & Grout cleaning and will be able to not only clean those hard areas that you cannot reach yourself, but also provide suggestions on maintenance of those stubborn areas to help minimize any mold and mildew return. With Mott's Tile, Stone & Grout cleaning service, your floors will sparkle once again and you'll save time and money.
What is the difference between ceramic/porcelain tile and natural stone?
Both materials are of excellent quality and durability but there is a difference which is not always apparent to the average consumer.
Ceramic/porcelain tile is a man-made product and many are made to mimic some type of stone. They are a bit more controlled in range and variation. Tile is also not porous or full of pores which means it does not absorb stains easily making the upkeep more minimal than natural stone.
Natural stone is quarried from the earth and is varied in color, no two pieces ever look the same. Stone is considered to be porous which means it will absorb stains at a quicker rate making the maintenance and upkeep of it more in depth than tile.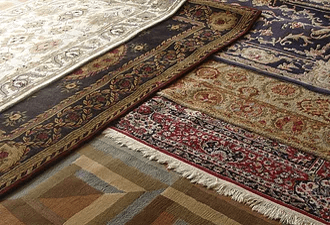 Oriental & Area Rug Cleaning
You have made a sizeable investment into your Oriental and specialty rugs, it only stands to reason you would want to keep them in the best shape possible. The best way to do this is to have them cleaned on a regular basis by a professional. Frequency of cleaning is influenced by the fiber content, weave, type and amount of soiling, traffic and wear and environmental conditions.
Cleaning and Care for your Investment
At Mott's we use the Surface Cleaning method which is accomplished with a wall to wall carpet cleaning machine, either truck mount or portable. Prior to cleaning your specialty rug we will dust/vacuum first to remove the soil and particulate from the base of the rug. This process can be completed on site or taken to your shop and delivered once complete.
In between professional care, there are some simple ways to care for your rug at home:
Rotation: To ensure even wear, your rug should be rotated once a year. Depending on the traffic, the rotation may vary from six months to two years.
Vacuuming: Oriental rugs, like most carpeting, should be vacuumed on a regular basis to remove dirt and restore life to the fibers. Be sure not to vacuum the fringe with your beater bar. Use the end of a vacuum hose from a canister vacuum.
Padding: A quality pad used under your rug helps protect it from dirt, wear and slippage.
Spot and Spill Procedures: Make sure you safely and immediately clean up spots and spills before they set.
1. First, soak up the excess liquid by blotting with a clean absorbent material. Do not brush or rub the stain.
2. Then spot-clean with a mild detergent-white vinegar-water solution. Do not over wet.
3. Rinse the area thoroughly with water and a small amount of vinegar. Avoid wetting the rug's backing.
4. Blot dry until most of the moisture has been absorbed.
5. Allow to air dry. A fan or cool hair dryer can be used to hasten the drying process.
For stains that do not come out using these methods, ask our cleaning specialist.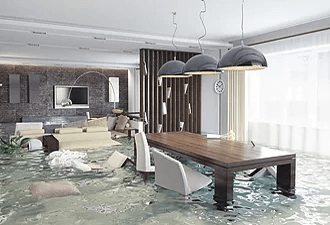 The most important aspect of water damage restoration is to remove abnormal moisture from affected materials, and the restoration job is not considered complete until all the affected materials are completely dried and restored to their original condition.
Cleaning and Care for your Investment
What is Water Damage Restoration?
Water damage restoration is simply the act of restoring or returning something to its former or normal state after it has been damaged in any way by water. The most important aspect of water damage restoration is to remove abnormal moisture from affected materials, and the restoration job is not considered complete until all the affected materials are completely dried and restored to their original condition.
Emergency Clean Up Services Available
Our immediate response team is certified and experienced in the area of water damage restoration. Our dedicated staff uses the newest up to date equipment and provide you with disaster recovery services when you need it. Although it is never a good time for any water damage, you can rest assured that our team will be there to make the clean up process as easy for you as possible on your watch, not ours.
Water Damage Can Happen To Your Home
It's easy to think that water damage can't happen to you. If you don't live by water, or have substantial down pours on a regular basis, we like to think we are safe, but it CAN happen to you.
In the U.S. over 1,000,000 structures are affected each year by water damage, resulting in over 3 billion dollars in insurance claims. Approximately 70% of all property damage claim are water related. The odds are 1 in 20 that your home will suffer a water damage claim this year.
The leading causes of water damage are washing machine, ice makers, water heaters, toilets, broken popes, faulty construction, accidents, ground water intrusion and river flooding. Be prepared and take the necessary precautions before it happens, instead of after.
Don't Wait for Water Damage Cleaning, Water Repair and Water Removal
A few simple precautions can save you from the stress and expense of a flooded home:
Periodically inspect washing machine hoses for wear or bubbles
Don't skimp by buying the least expensive product when installing new supply lines to toilets or ice makers. Spending a few more dollars can save you a fortune.
If your water heater is more than 12 years old, replace it.
Wrap exposed pipes during periods of cold weather.
Clean your gutters every fall. Clogged downspouts and foundation drains can cause ground water intrusion, which is rarely covered by insurance policies.
Finally, if you are leaving town for more than a few days, turn the power to your water heater off, shut off the main water supply valve to your house and flush a toilet on the lowest floor to drain the system.
How it Works
Several steps are taken to remove water from your property in the event of a flood, hurricane, or other water related disasters. First, the water will be removed from the property. Once the water is removed, a de-humidification process will begin to dry the wet areas. Next, evaporation of the water will occur and finally the air will be tested to ensure that all water and moisture is gone from the property and won't cause any further problems.
Other processes involved with water damage restoration include wet carpet restoration, odor control, fabric restoration, dry wall restoration and wood floor restoration.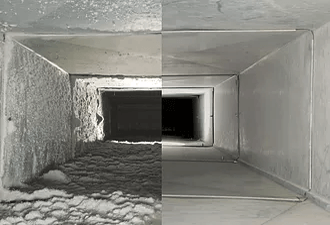 Do you know if the air you breathe truly clean?
Do you ever wonder why just a few days after dusting your home, dust reappears? It could be coming from your air ducts. Whenever the heater or air conditioner go on, all is going to end up being blown in to your house. And you don't want that.
RAMAir - A Breakthrough in Cleaning
Indoor air pollution is a growing public health hazard with negative effects on millions of people around the globe. Research shows that it contributes to more than half of all illnesses including sinusitis, allergic rhinitis, asthma and more. Common household pollutants include dust, mold, pollen, rodent / insect remains and feces.
The average person spends approximately 90% of their time indoors, where pollutant levels are often two to five times higher than outdoors. The EPA has ranked indoor air pollution among the top five environmental risks to public health.
(U.S. EPA, 1987; U.S. EPA, 1990)
We don't just clean air ducts – we restore heating and air conditioning systems to superior cleanliness, including mechanical equipment and ductwork.
Introducing…RamAir ClearView Duct Cleaning System. A Breakthrough in Cleaning…
RamAir is a revolutionary duct cleaning process that allows for state-of-the-art forced air cleaning with no mess or debris, and it won't harm duct surfaces!
The recently patented RamAir ClearView Duct Cleaning System is the most effective system to date, as well as being the first system ever created that allows the homeowner to actually see all the dust and debris as it is being removed from the duct system. This revolutionary new system has been quickly gaining world wide recognition.
How Clean is the Air You Breathe?
Fast, Efficient, and Affordable!
Cleaning your ducts is as easy as 1-2-3! Call us
Call us today to see how AirRam Duct Cleaning Services can benefit you and your family.
This error message is only visible to WordPress admins
Error: The account for mottscarpetcleaning needs to be reconnected.
Due to recent Instagram platform changes this Instagram account needs to be reconnected in order to continue updating. Reconnect on plugin Settings page
Error: No posts found.
Make sure this account has posts available on instagram.com.